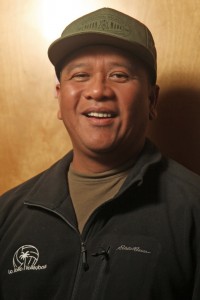 Roy coached volleyball for 15 years before taking a break to raise and coach his own kids. He began coaching with Tod Mattox at Monte Vista (Tod is now at the Bishop's School and is the director of coaching for Starlings), then Roy went to Mt. Carmel High School, where he coached volleyball with Nick Fotias of San Diego Volleyball Club. Roy is currently a high school math teacher at Mt. Carmel High.
After a few years break from coaching volleyball at the high school and club level, he is excited to be back in the gym working with the La Jolla Volleyball players. Roy's goals are to teach fundamentals and make sure the girls have fun so they play this game for a long time.
Roy's volleyball coaching:
Monte Vista High School 1988-1992
Spring Valley Volleyball Club 1989-1991
Mt Carmel High School 1992-2002
assisted local club teams in that span
Wind n Sea Volleyball Club 2011
La Jolla Volleyball Club 2012-present: head coaching travel and local teams, skills clinics and summer camps
Roy is also a talented player himself, with years of experience playing USVBA tournaments indoors and out.
Philosophy: I'm as competitive as they come but I coach to develop and not necessarily win.
Motto: TEAM [Together, Everyone Achieves More]
In addition to his extensive experience coaching indoor volleyball, Roy has also had a successful and illustrious career coaching boys baseball teams with La Jolla Youth Baseball!
send an email to Coach Roy: Roy Agbulos