FALL Girls School-based teams  —  General Info  —
Tryouts are held in late August, and LJV teams are formed primarily to compete against other middle school-based teams.  LJV Fall teams will participate in 2-3 tournaments in Poway, September-October.  Some LJV Fall teams will also compete in matches against other local middle school teams.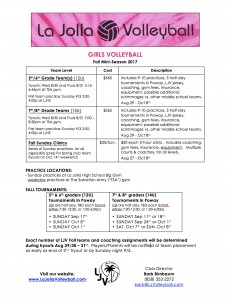 Fall teams are formed in two age groups:
– 5th & 6th graders will compete in 12U division
– 7th & 8th graders will compete in 14U division
Birthdate does not matter for Fall season, only your grade in school; must be in 5th-8th grade.
click image to view/print Fall LJV flier
_________________________________________________
Fall 2017 – MIDDLE SCHOOL TRYOUTS:
Wed. Aug 30th: 5th-6th graders 5:15-6:45p, 7th-8th graders 7:00-8:30p (incl. in $40 tryout fee) – Parent Info meeting for 10minutes at end of each session.
Thurs. Aug. 31st: 5th-6th graders 5:15-6:45p, 7th-8th graders 7:00-8:30p (incl. in $40 tryout fee)
Tryouts are held at "TSA" gym – The Salvation Army gym.  Tryout Fee required for all participants. 10min parent info session at end of 8/30 tryouts.
Weekday tryouts/practices are held at TSA gym and all Sunday practices are held at La Jolla High School
– click Locations for details
Click here for Online Registration & Payment – select tryouts payment ($40) prior to tryouts
HINT:  sign up and attend the first 2-hour Sunday Clinic on Aug 27th to brush up before tryouts!
_________________________________________________
NON-TEAM OPTION FOR FALL… SUNDAY CLINICS:
4:00-5:45pm each Sunday at LJHS Big Gym
August 27th, September 3, 10, 17, 24, October 1 and 8th.
This is a great option for those who either do not make a Fall team or simply prefer to wait until Spring season to join a team…  Weekly Sunday clinics to learn & improve your skills before Spring season tryouts (which start mid-October). Sunday clinics open to 4th-8th graders, all levels.  Click on Fall Sunday Clinics for more details.
Sunday Clinics are $30 each Sunday.  Must pre-pay/pre-register online (even a few moments prior is okay).
_________________________________________________
FALL GIRLS TEAMS DETAILS:
PRACTICES
Fall school-based teams in 2017 will have 9-10 practices and will have 3 tournaments in Poway.  Team-specific schedules and practice days will depend upon your daughters' team placement.  All Fall teams will have one weekday practice and Sunday practices on non-tournament Sundays.  First practice for all Fall teams will be on Sunday September 3rd at LJHS 2:00-4:00pm
TEAMS
rosters will be posted on this website by mid-September
CUTS?
We hope to field teams for all interested players. However, we can never accurately predict the turnout of players and we may need to cut some players.  Those players may choose to register for the series of Sunday practices.
TOURNAMENTS & GAMES for Fall teams
– 3 half-day tournaments in Poway ("Volley-Fest" Series at Epic VBC), on Sundays in Fall
– 5th/6th graders will compete in 12U division, using the VolleyLite ball
– 7th/8th graders will compete in Club or Open division, using regular weight volleyball
– Games with other middle schools may be scheduled and will posted on LJV Calendar
Fall tournaments start with the very first weekend after Labor Day for some 7th/8th teams:
– 7th/8th graders' first tournament is Sunday Sept. 10th or 17th (depending on Club or Open level of team)
– 5th/6th graders' first tournament is Sunday Sept. 17th
COST
$565 for 2017 Fall season
The $40 tryouts fee (required) covers gym rental time, equipment, coaches, and all tryout dates.
Fall Season fees include LJV team jersey, equipment, gym rental, tournament fees, coaching, and insurance.
Fall fees may be paid in one or two payments.  First payment is due by first practice, balance by 9/20.
Fall 2017 Coaches: 
Roy Agbulos, DK Brown, Jon Murphy, Nicole Blackwell, Malia McGuinness, 
Assistant & floater coaches:  Ivey Schmitt, Barb Birnbaum, and high school players/coaches.
_______________________