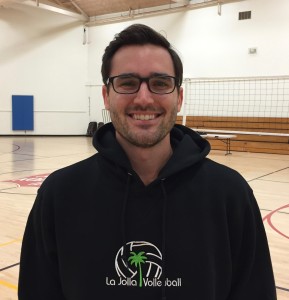 Coach Will is a native of San Diego and discovered his love of volleyball one summer through pickup beach volleyball games.  From there he went on to play for Torrey Pines where he played on varsity for three years as an outside hitter and libero.  It was a tough decision for him initially because he wanted to play baseball and tennis too, unfortunately they were all spring sports but he made the right decision and stuck with volleyball!  He still enjoys playing tennis every week however and is always looking for new people to play.
At U.C. Santa Barbara, Will played libero for the UCSB club team and helped run a youth sports league in Santa Barbara that primarily served disadvantaged youth.  While doing this he discovered how much he enjoyed working with young athletes, which eventually led to him getting his teaching credential and Masters in Education.  He started his teaching career at Earl Warren Middle School in Solana Beach where he also coached the 7th and 8th grade volleyball teams for three years, winning three league championships during that time.
He then moved to teaching at High Tech High International in Point Loma where he has continued his dedication to serving students and student athletes both on and off the court.  Since he started at High Tech High in 2013 he has coached the women's and men's varsity teams with Coach Law and is excited to coach with La Jolla Volleyball Club!
send an email to Coach Will