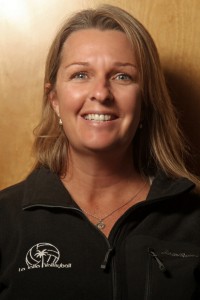 Tonya is originally from Fresno, California. There, she played high school volleyball and on various club teams until graduation. Next, she went to school at Santa Barbara City College (where she finally got to experience playing on the sand!), and then moved onto San Diego State where she received her BA and teaching credential. Over the years, Tonya has continued to play on various recreational teams whenever the opportunity has presented itself, and her love for the sport has never wavered. This will be Tonya's 4th year coaching with LJV, and feels so fortunate to have been given the opportunity.
Tonya was employed for many years by the City of San Diego as a lifeguard/swim instructor, and currently works as an elementary school teacher for San Diego City Schools. She most often works at Sessions Elementary and La Jolla Elementary.  She and her husband Bill have 3 children: Jake attends Pacific Beach Middle, their daughter, Bethany, attends Mission Bay High and plays Varsity volleyball there, and their oldest is away at college.
Tonya feels that coaching for LJV is the perfect match for joining her volleyball and teaching skills, and is looking forward to another fun and productive season with LJV!
send an email to Coach Tonya