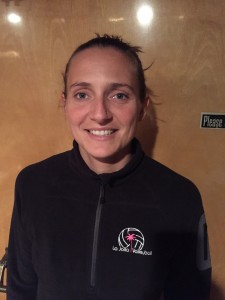 We welcome Michelle to our La Jolla Volleyball coaching staff!
Michelle is from Milwaukee WI.  She played club for Milwaukee Sting VBC since the age of 12. While in High school she coached 12 and under camps for both Milwaukee sting VBC and Pius XI High School, and also refereed Sand Volleyball Leagues.
Michelle played college at Indiana University-Purdue University of Indianapolis. 1st Team All Conference 2002, 2004; Mid Con- Player of the Week October 11 2002; All Tournament Team at Florida International Invitational 2002; IUPUI athlete of the month for November 2004.
Coached for Circle City VBC for 3 years. (17'3s qualified at regionals for nationals) and Team Indiana VBC for 1 year (17'2s qualified at regionals for Nationals). Coached high school team camps for Both Indiana University and Purdue University. Referred USAV Junior VB Tournaments 14 and under.
After college Michelle moved back to Wisconsin and coached for Milwaukee Sting VBC for 4 seasons and coached Freshman at Hartford Union High School for 2 years and JV at Pius XI High School for 1 year. Head coached the Varsity Program at Shorewood High School for 3 years. Coached individual summer skills camp for Marquette University.
Started playing sand vb and coaching sand camps for Milwaukee Sting VBC in 2009. Qualified for AVPNext Championships Chicago 2010. Qualified for AVPNext Championships Miami 2011.
Michelle moved to San Diego in November 2013. Qualified for AVP Manhattan Open 2014. Michelle lives in Pacific Beach and work as an Administrative Assistant and Real Estate Acquisition Specialist.
send an email to Coach Michelle