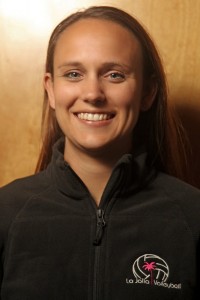 Megan grew up playing volleyball. She began playing at the beach as a little girl with her dad. She went on to play at San Diego Volleyball Club and Epic Volleyball Club as a setter and later a libero. She played four years of Varsity volleyball at La Jolla High School and was on the all-CIF second team three times. Megan also played in college on the club team at UCLA and continues to play as often as she can today!
Megan began coaching with Barb as a Freshman volleyball coach at La Jolla High School in 2009 and was part of her coaching staff at Wind n' Sea Volleyball Club in 2010. Megan then moved to Boston where she became the Girls' Freshman Coach at Cambridge Rindge and Latin School for the 2011 and 2012 seasons. Now Megan is back in San Diego and excited to be coaching for La Jolla Volleyball!
Megan is also a history teacher at Del Norte High School and teacher/tutor for the Princeton Review.
send an email to Megan Volger
Megan Volger