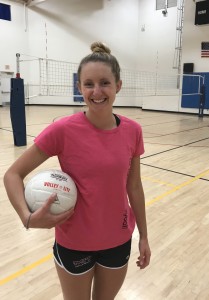 Welcome Clare Farley to our coaching staff!  Clare has helped with LJV Summer Camps and clinics for many years and now we are thrilled to have her coaching a Fall team!
Clare Farley was a four year six-rotation starter for La Jolla High, before going on to be a four year starting Defensive Specialist for MIT. A 2018 graduate, she was part of one of the winningest classes in MIT Volleyball history, winning 4 NEWMAC regular season titles and making the NCAA tournament four straight years, while compiling a 117-18 record. Individually, Clare is in the record books as having the seventh most career aces  and the seventh most aces per set in MIT volleyball history.
In addition to volleyball, Clare is a certified yoga instructor as well as an avid runner. When she's not working out, Clare works as a Supply Chain Analyst at Perfect Bar here in San Diego.
Having worked at a variety of LJV camps and clinics over the years, Clare is excited to be back in town and part of the coaching staff this fall.
send an email to Coach Clare